Fall is here, which means proposal season is in full swing! If you're thinking of proposing this fall, know that they are many ways you can incorporate the magic of the season into your proposal to make it even more romantic and memorable. And in this post, we've collected some of our favorite fall proposal ideas. Read on to see our list of the 6 romantic fall proposal ideas we're loving!
1. Park Proposal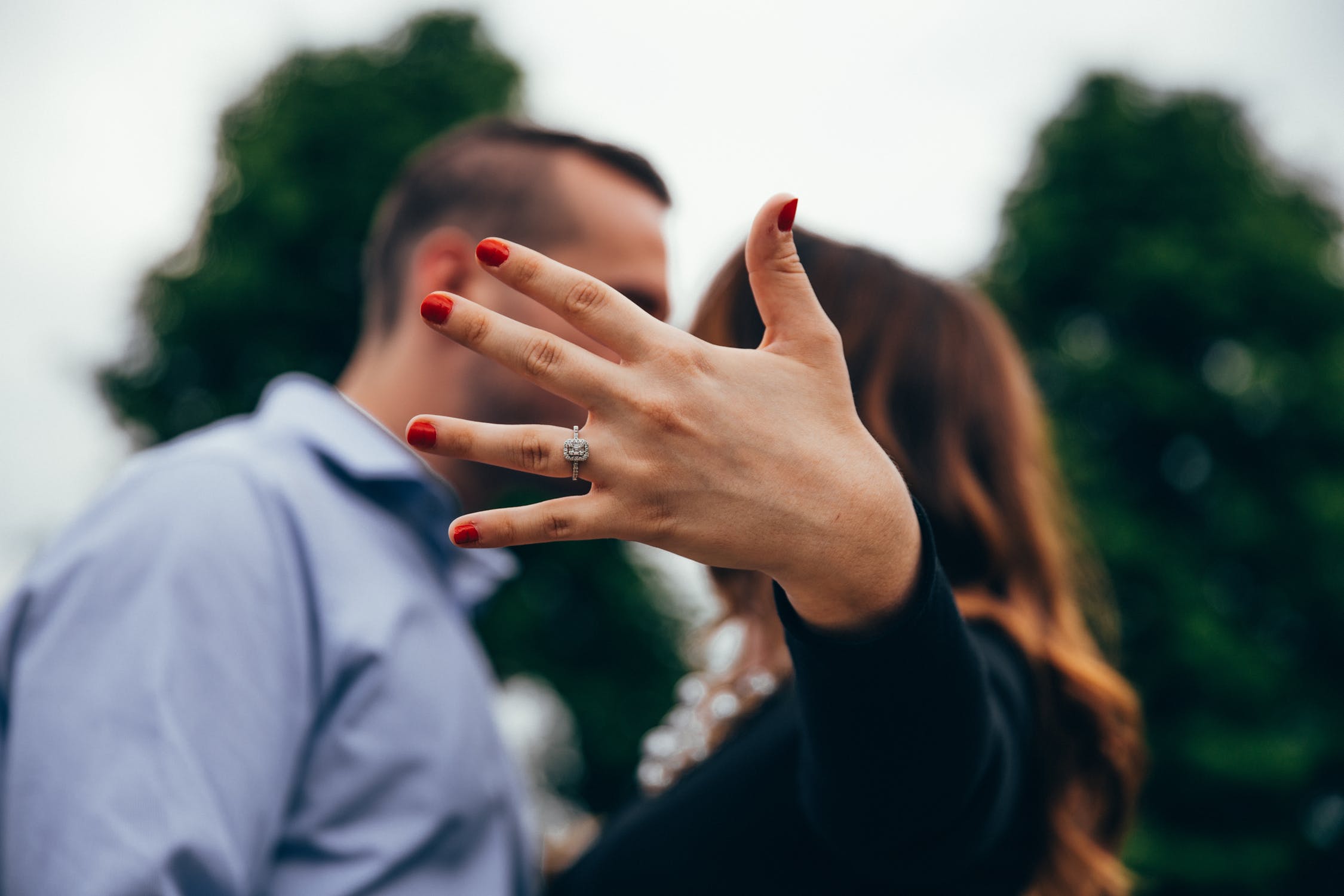 The changing leaves of fall are the season's most beautiful attribute. If you live in an area that gets some spectacular fall foliage, take your partner for a stroll among the trees before you get down on one knee. This is a simple, but utterly romantic proposal idea. Plus, there's no better engagement photo backdrop than an array of gold, orange, and yellow leaves!
Ring Pairing Idea: This floral inspired halo engagement ring is the perfect complement for a park or forest proposal. This beautiful ring combines natural elements with high visual impact, much like autumn's vibrant falling leaves.
2. Say it With a Pumpkin
Carving pumpkins is one of our favorite fall activities. And if it's one of your partner's favorite fall activities too, why not pop the question with a pumpkin? Carve your proposal message into a pumpkin (or a series of pumpkins, for even more dramatic effect), light it up, and pop the question under the starry night sky.
Ring Pairing Idea: This delicately detailed double band engagement ring will shimmer spectacularly amidst the glow of your pumpkin proposal message.
3. Fireside Proposal
In fall, the weather turns chilly and the air is crisp, which means it's the perfect time to snuggle up by a fire! Plan to have a romantic night in at your fireside with dinner and drinks. Enjoy a romantic meal with your partner, cozied up by the fire, before you propose. Be sure to have champagne and dessert set aside for after she says yes!
Ring Pairing Idea: This traditional and sweet proposal idea calls for a classic engagement ring, like this lovely three stone design.
4. Halloween Proposal
Carving a pumpkin with your proposal message is a fun way to incorporate Halloween into your proposal. However, there are many other ways to incorporate this fun holiday into your proposal. One idea is to hide your ring box in a bowl of Halloween candy. Another idea is to incorporate your proposal into your Halloween costume. For example, you could dress up as an engagement ring and surprise your partner with your costume (and proposal)!
Ring Pairing Idea: This engagement ring features a uniquely shaped band that adds a bit of edge and fun to the design, making it the perfect choice for a Halloween-themed proposal.
5. Winery Proposal
Fall is harvest season and one of the many delicious treats in season during Autumn is wine. If your partner loves a bit of good wine, consider heading to a winery for your proposal. If you let the winery know in advance that you'll be proposing, they'll be able to help you coordinate and set up the perfect proposal scene. You can propose in the wine tasting room, at a winery restaurant, or out in the beauty of the vineyard.
Ring Pairing Idea: This sleek, yet romantic, modern engagement ring is ideal for the sophisticated at heart, making the perfect choice for the budding sommelier in your life.
6. Waterside Proposal
Proposing by the water is romantic at any time of year. And during fall, the weather is still nice enough to be outside, but you'll have far fewer people crowding up waterfront, which can make a fall proposal by the water more romantic. There are many different types of waterside locations you can choose from for your waterside proposal, like the beach, at a lake, by a river, by a waterfall, or even by fountain in the city.
Ring Pairing Idea: The delicate water lily inspired setting used in this solitaire engagement ring will remind your sweetheart of your waterside proposal each time she puts it on.